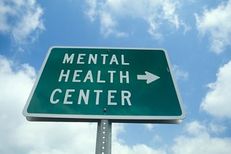 ​May was Mental Health Awareness Month. As with any campaign to raise awareness of a thing, there was an internet flurry of blogs, articles and infographics. I added all kinds of great things to the flurry. (Twitter, @KitKo_Psych NP). Campaigns to raise awareness are effective, and reducing the stigma around mental health is a fantastic goal. Although estimates vary significantly, as many as 50-60% of individuals with symptoms of severe mental illness do not get adequate treatment. Symptoms such as severe depression, anxiety, or paranoia may make it hard to seek treatment, and access to affordable psychiatric care may be another issue.
Some resist the idea of treatment because of their beliefs about mental illness and treatment. Our sense of self, who we are, is tightly intertwined with how we think and act. It is difficult to separate these things, but in order to understand mental illness, we
must
do it. A person's psychiatric symptoms are not a reflection of their values, abilities, or personality. The individual who has ADHD was not late to the dinner party because because she doesn't value her friendship with the host. Her brain perceives the passage of time differently than most of her friends, in fragmented chunks, rather than a continuous process. The person with depression who can hardly get off the couch, is not "wallowing" in it. The fatigue of depression is much like the malaise that people experience when they are sick with the flu. Not the sore throat or fever, but the exhaustion, poor appetite, and apathy of it. It's not personal. It's biological. And yet, this idea that we should be able to cure ourselves by sheer force of will is pervasive. People delay treatment, because they "should be able to handle this". They delay treatment because they worry that others will think they are somehow less
,
because they
cannot
handle it alone.
People also delay treatment because they are afraid of treatment. Will the therapist think I am bad or crazy? (Certainly not!) Will I need medications? What if there are side effects? What if the medications work? Will I have to take them forever? What if they
don't
work? Medications aren't always the right answer, that's why it's important to be evaluated by a doctor or nurse practitioner who specializes in psychiatry, but the right medication can be life altering. Of course, there are risks associated with taking medications. They're not that good at making drugs that do only the one thing we want them to, and nothing else. But there are risks associated with NOT taking medication too! Relationship difficulties, job loss, increased risk of substance abuse, reduced immune functioning, increased risk of cardiovascular disease are just a few of the risks.
I recently had dinner with author and medical educator, Eric Arauz. He wondered aloud, why is it so hard to convince people to take psychiatric medications...even when they stand to gain so much by taking them? People will agree to chemotherapy when they have cancer. These drugs are incredibly toxic, and have some of the worst side effects imaginable. Yet people still show up every week for their IV infusion. Because they believe that the medication can improve or prolong their lives. Psychiatric medication can do that too, with far less severe side effects! That's the awareness I want to raise. Treatment can improve and prolong the lives of people with psychiatric illnesses, and treatment is not as scary as you think!
For more great information about mental health issues and treatments, check me out
on
Facebook
or
Twitter
.