Adult ADHD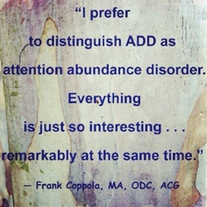 I absolutely agree with Dr. Coppola. Attention Deficit Disorder is an incomplete description of the condition. It is more accurately characterized as a problem with attention
management.
It involves perceiving stimuli, evaluating their importance, and then tuning out things that are not important right now. Also, many individuals with ADHD show additional deficits in
executive functioning
.
NEW!! More research shows that daily exercise can improve functioning in people with ADHD!
This article
discusses the results of a study published in the medical journal
Pediatrics
. Future studies will need to study this in adults, but I anticipate similar findings. Different symptoms tend to be problematic at different points across the lifespan, but the underlying neurology is the same.
---